The CoolCat(tm) Fan Switch is a bolt up replacement for the stock Otter switch for Series 1 and 2 E-Types. The brass mounting flange fits exactly into the stock switch location, whether it be on the header tank or the radiator. The thermoswitch is extra long, so that it makes contact with the coolant in Series 1 applications. It's a modern 16mm switch, as found in many Japanese cars. The "on" temperature is 185F, and it's accurate within five degrees. Replacements are inexpensive and plentiful. (We always stock spares, but if you need one "on the road", the following parts interchange: Mitusbishi MB007639, GM 12337506, AC Delco C1808, Standard TS144, Motorad 5068)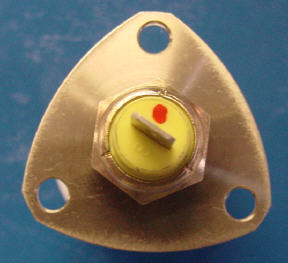 The switch kit comes complete with mounting plate, thermoswitch, gasket and grounding lug. Replacement thermoswitches are always in stock! Note for Series 1 4.2 applications: you must use a fan relay when using this switch. If your car is not so equipped, contact us for advice.
We make the part to fit the car, so you don't have to make the car fit the part!