Do you have a Series II or III E-Type? Ever wish your cubby box lid could be high enough to rest your arm? Problem solved....by CoolCat! This is the CoolCat Cubby Box Armrest. A powder coated aluminum plate replaces your present cubby box lid. On top of that is a new armrest. It has a solid urethane pad, which blends nicely with your interior upholstery. The pad is at the proper height to rest your elbow, and it can slide forward or back to allow you to adjust it for your personal comfort.
But wait, that's not all! As you know, we at CoolCat are dedicated to making your E-Type the perfect driving machine. And what driving machine would be complete without cupholders? Pull out the tray hidden under the pad, and you have two convienient cupholders...you and your passenger can enjoy all the modern comforts!

Installation is a snap....just undo the three screws that hold your present lid in place, and install the CoolCat Cubby Box Armrest in it's place. It's that simple. Keep the old lid in the boot for concours.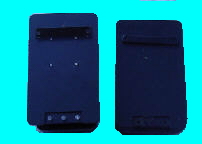 CoolCat Cubby Box Armrest(left) vs. Stock Lid (right)
The CoolCat CubbyBox Armrest comes with two drip-proof cups. Also includes a locating pin for cubby boxes with locks. NOTE: the current product fits only 10"x6" cubby boxes. (A 12"x6" product will be available shortly.) Black only, but call for availability of other colors.