June 21, 2015 Disaster!
This email is being sent to you with great sorrow. By now you may have heard that we had to drop out of this years Great Race. With that said I want to share with you the reason for our withdrawal; but I first need to start at the beginning and not the end.
As you are aware, my 1970 Jaguar E-Type has been fully restored and is presently the 2013 and 2014 JCNA National Class Champion. Recently we experience some problems with the engine and decided to do a complete overhaul of the engine prior to the race. The overhaul was completed just three weeks ago (May 30) and the engine was performing flawlessly. In fact so well there was no question that we wouldn't make it form Oklahoma City to St Louis and on to Santa Monica.
Mike and I were very excited as we loaded the car for the Great Race Wednesday morning. We had just one short stop for a photo shoot at the Tulsa Jaguar/Land Rover Dealership. Everything was going great as we traveled on the Turner Turnpike towards Tulsa, Oklahoma even though it was raining. The only thing that caught my attention was the oil pressure had dropped a little; but I assumed it was just the oil heating up a little due to our freeway high speed. As we neared our destination in Tulsa, all of as sudden our oil pressure went to zero followed by an explosion in the engine compartment and smoke pouring out of the bonnet louvers. I immediately shut off the engine and went to neutral as we coasted to the nearest freeway off ramp. Fortunately we had enough speed to coast to the nearest Quick Trip parking lot. Upon examination of the engine compartment you could see the large hole in the engine block along with the remnants of a rod cap lying on top of the exhaust pipes.
I called Tom Bloomfield our Tulsa Jaguar Sponsor to fill him in on what has happened. Ten minutes after the call he showed up at the Quick Trip to offer his condolence's and said he had all ready called a wrecker to pick up the car and take it to his dealership and provide us with a loaner car until we figured out what to do.
For all practical purposes we felt all was lost regarding the Great Race. The next problem was just getting it back home. Then I had an idea that might save the day. I called a good friend of mine (Charlie Blankenship)n that has a Jaguar repair shop just south of Norman, Oklahoma to see if he might have a XK engine sitting around. Much to my surprise, Charlie said he had a e-type engine he had overhauled a few years back we could have. Can you imagine that! WE NEEDED an engine and he had one ready to go, or so we thought. I told Mike that with that engine and a lot of luck and hard work we could still make the Race deadline on Saturday.
So we immediately rented a U-Haul, loaded the car and headed back to Oklahoma City. Unfortunately by the time we got back to OKC it was too late to drive to Charlie's place to get the engine.
We called Jeff Stump ( the Great Race Director) and advised him of our problem along with our plan on still making it to St. Louis for the race.
Optimistically we felt with a long day we could get the failed engine out of the E-Type and the new engine installed and make our starting deadline of Saturday morning.
Thursday morning at 7:00, we headed for Charlie's to retrieve our new engine. Even though it was pouring down rain, Mike and I were both excited and full of confidence that we could still make the race.
When we arrived at Charlie's shop he had the engine on the floor with a hoist just waiting for us. Charlie then began to tell us about the engine. It was in fact totally overhauled but had been setting in his warehouse for 15 years since it as overhauled. He also said that he tried to turn it over and it wouldn't budge, and we would probably have to break it down and replace all of the seals. Still, we were optimistic that by working long hours we could still make The Great Race on Saturday.
Back at my hangar in Bethany (OKC) we immediately installed the engine on my engine stand and proceeded to investigate why it wouldn't turn over. At first we hoped that it was something minor but realized that we would have to pull the head for further trouble shooting.
By noon we had the engine mostly apart, but still could not turn it over. We found severe corrosion in cylinders no. 3 & 4. In fact, so much it would be impossible to get it ready to start the race in St. Louis. Finally, at 5:30 in the afternoon I told Mike that there was no way we could make the race with an engine in this condition.
So after 8 months of dreaming, planning, and waiting we were officially out of the 2015 Great Race. There is always a bright side to look at , or at least there should be! The fee for entering The Great Race is non refundable, however under hardship conditions, the fees can be applied to the 2016 Great Race.
We will have a new engine in the E-type and can hardly wait for next years event. The 2016 Race will be on June 18th beginning in California and ending in Illinois on June 26th. The route of next years race is on the internet under www.greatrace.com.
We know that you are as disappointed as we are, but the race next year will be every bit as exciting as this years event.
Kindest regards,
Dick Russ
Mike Cook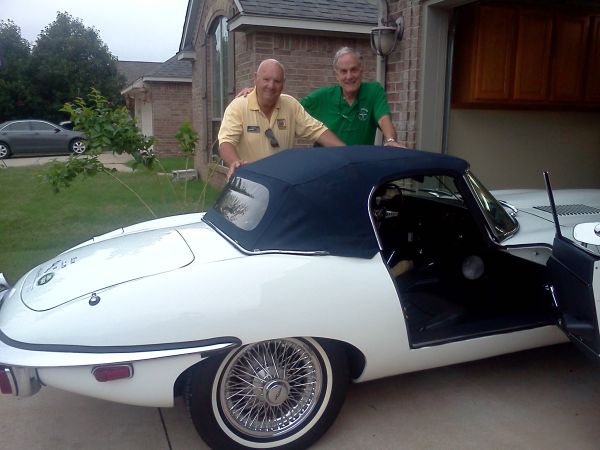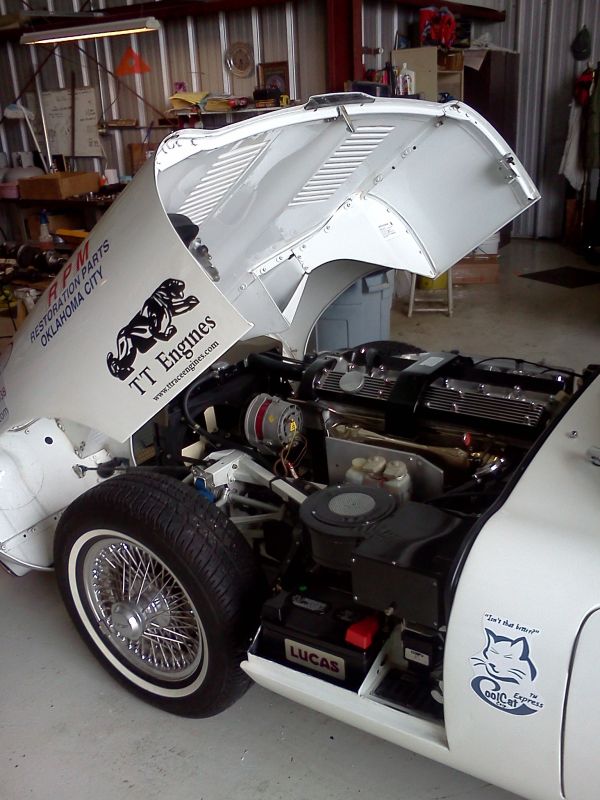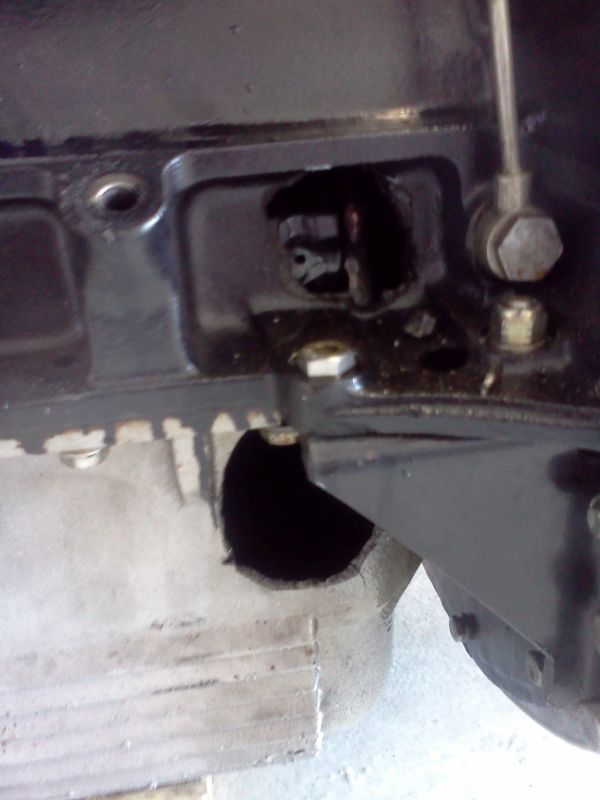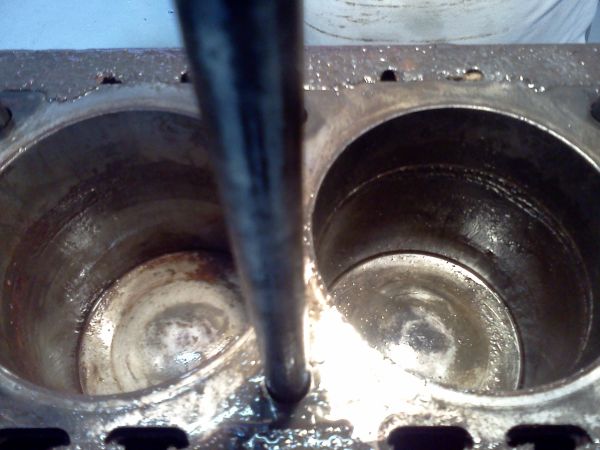 June 16, 2015 Oklahoma City
Hi everyone, after eight months the big event is finally here and we're ready! Today was spent picking up last minute items for the trip and final checks on the car. We also packed the car with everything except the garment bag and duffel bag which we will load in the morning last thing.
I've attached several "before and after" photo's showing how we packed the car using every available space in the trunk or "boot"as the Brits call it. We even stored the mandatory gallon of water in the engine compartment as you will see below.
With tropical storm "Bill" coming we will get up at 5:30, shower, eat a small breakfast, load the two bags and be on the road heading to Tulsa at 6:30. We have an appointment with the "Tulsa Jaguar " dealership at 10:00 for a photo shoot. After that we head to St.Louis and check-in in Kirkwood, MO.
Mike Cook, navigator
Dick Russ, owner and driver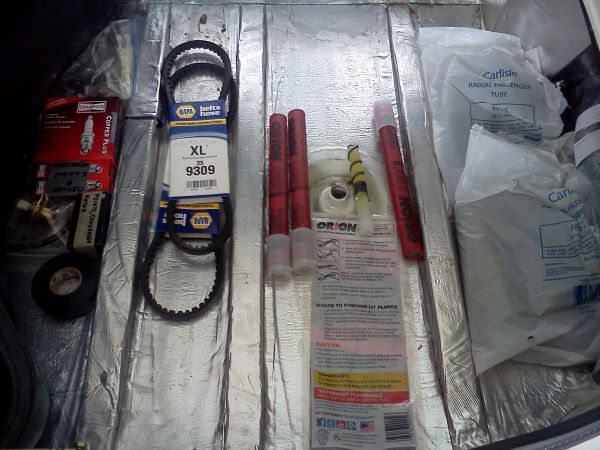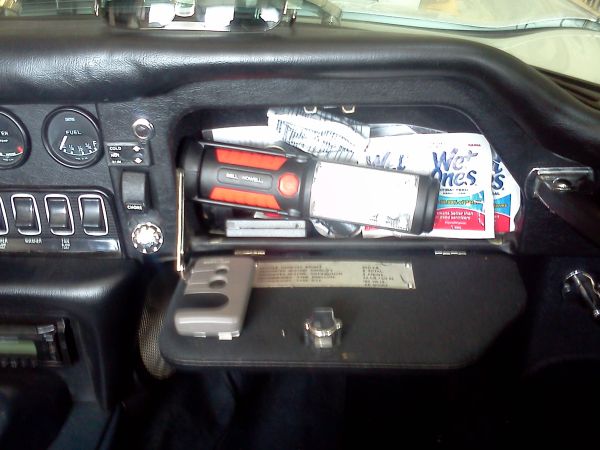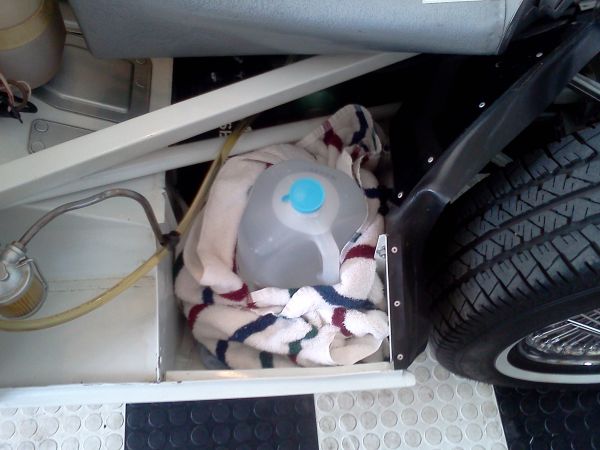 June 15, 2015 Oklahoma City
Hi everyone, we started the day driving over to the regional office of the Oklahoma Highway Patrol and meeting with Trooper Darold Roszel. We explained that we needed to calibrate our speedometer for the Great Race and could he please check our speed with his radar equipment? He was very kind and agreed to meet us a few miles west on a four lane country road.
We agreed to make three passes as he was parked off the road. We then drove past him at 30 (1500 rpm), 40 (1900 rpm) & 50 (2300 rpm) mph. (Remember the maximum speed we can go during the rally is 50 mph). We then met to review the results. The results were as follows:
At 30 mph he clocked us at an even 30.
At 40 mph he clocked us at 39.
At 50 mph he clocked us at 49.
We then drove back to the regional office to take photo's and met other troopers who wanted to see the E-Type. Thanks to Trooper Roszel for his time! He also wanted to be added to this e-mail list for future updates.
On my list yesterday of the required items each car must have, I failed to mention the other things that have been completed on the car. The idea of course is to make the car road ready and dependable for the long drive to St. Louis and then west to California. Here is a short list:
Rebuilt disc brakes and calipers
New wheel bearings
New wheels
New battery and cables
New fuel pump ( another new pump was installed two years ago in the boot as a back up. Only need to reconnect fuel line and leads).
Box of 30 amp fuses
New Ignition light indicator
Spare bulbs for all lights
New oil sending unit (that was installed today)
Complete rebuild of the XK block and head
New seals and gaskets.
Tuesday will be our last day before heading to Tulsa and St.Louis. We have to load everything tomorrow as we will head out early Wednesday morning. The excitement is really starting to build! Yikes!
Mike Cook, Navigator
Dick Russ, Owner and driver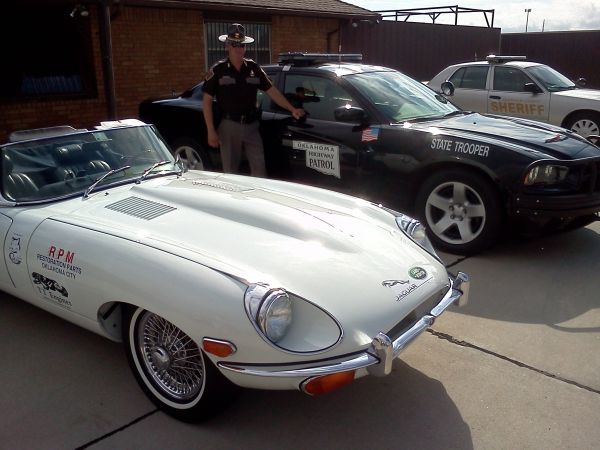 June 14, 2015 Oklahoma City
Hi everyone! It was another busy day here in Oklahoma City and we got a lot accomplished. We met with the photographer who took a picture of each sponsor's logo by itself on the car. These shots will be developed and later sent to each sponsor for their marketing needs. On Wednesday we will shoot the car with all of the decals in place when we arrive in Kirkwood, MO.
After the shoot we came back and starting affixing decals to the car in the driveway as you will see below. We only did three today as we were concerned the rest might come off in the rain that is scheduled for Wednesday. You will see another photo of us as we worked around the table adding up the expenses spent so far, double checking our motel reservations, reviewing rules and check lists.
We then started to pack our clothes and toiletries, etc. As you know we have very little room for luggage, tools, emergency items and spares. Clothes were kept to a minimum as we have "Tide Pods" to do laundry in our motels as we go cross country. All clothes were squeezed into one garment hanger and one duffel-bag which held shoes, underwear, socks and toiletries.
We then laid out all of the emergency items and tools to make sure we did not overlook anything. In the photo you will see left to right the following:
Water pump belt
Alternator belt
Electrical tape
Two tubes of super glue
Extra points, condenser & rotor
Complete water hose kit
First aid kit
Extra Lucas coil
Cleaned and gaped spark plugs
Emergency LED flash light
Power steering fluid (this is also 20W oil used in the SU carburetors)
One gallon of water (race required)
Small LED flash light
Otter switch (for cooling fans)
Duct tape regular and black duct tape used to seal leaks around convertible top and edge of windshield.
Jaguar tool kit
Nine hose clamps
Tie wraps
Assorted small tools
Fire extinguisher
Baby powder for inner tubes
Two new radial inner tubes
T minus two days before departure to Kirkwood and meeting 130 other cars from all over North America!
Mike Cook, Navigator
Dick Russ, Owner and driver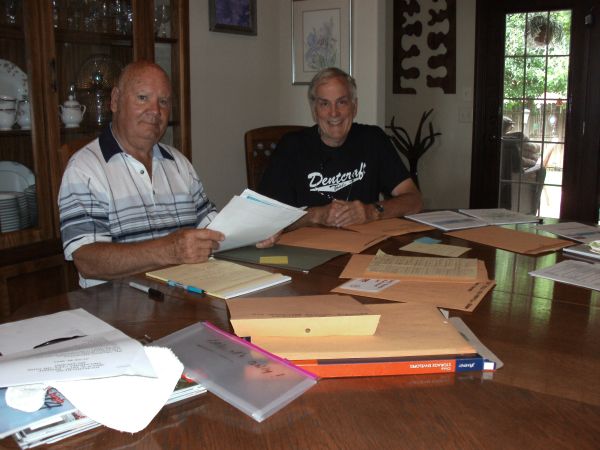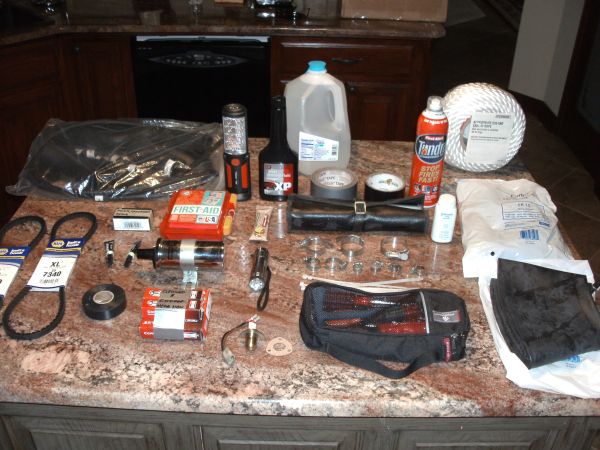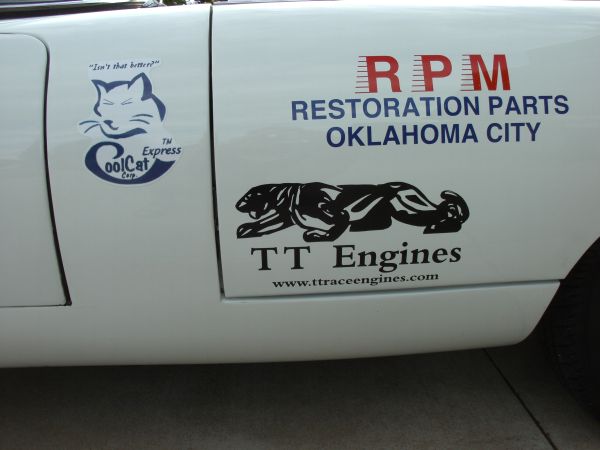 June 13, 2015 Oklahoma City
Hello everyone, I pulled into Oklahoma City last night around 9:00. It is always special to come back to OKC as we have many friends here and especially Dick & LaNeal Russ whom I'm staying with. We first met them back in 1985 as Sammie and I were looking for an E-Type and we contacted the local club for help in finding one. They recommended a '73 V-12 2+2 that had been setting outside in the Oklahoma sun for seven years. We bought it and thus started a 30 year love affair with the "Leaper" and Dick & LaNeal. Who would have dreamed 30 years ago that we would be doing the Great Race together some day?
This morning we met with the Central Oklahoma Jaguar Club on the Route 66 section that runs north east of OKC in the small town of Arcadia. Located there and listed on the National Historical Sites Register is the Arcadia Round Barn built in 1898. There are just a couple of these left in the U.S. and it was amazing to tour! Check out the photo listing the site.
We then drove to just outside Arcadia where there is a one mile section of the original Route 66. In the photo you will see the brick edging that lined the old highway and also notice how narrow the road is. I also took a photo of a mailbox on the section showing the address as the locals call it the "Old Route 66".
After lunch with the club we returned home where Dick washed the '70 Jaguar 4.2L E-Type OTS and we took it for a test drive as there is less than 1000 miles on the newly restored engine. The engine ran smooth and quiet, oil pressure was perfect, and temperature showed a very cool engine. Sunday we have a date with a professional photographer who will shoot the car with the decals of our sponsors. Each sponsor will be given a photo showing their logo's on the only Jaguar E-Type in the 2015 Great race! Today Dick and I purchased a 50' tow rope, emergency flares, and a clip board to hold maps and directions during the rally. We have to make sure that we have everything required inside the car in order to qualify next Thursday in Saint Louis.
We have been told that the car count is now up to 130 cars ranging from 1900 to 1972 so our competitive juices are starting to flow. I've got butterflies in my stomach and it is hard to sleep! We head for Tulsa at 7:00 Wednesday morning to meet with "Tulsa Jaguar" one of our sponsors to do a photo shoot, and then it's on to Saint Louis that evening. The flag goes down Saturday the 20th as we head west to retrace the old historic Route 66 to California!
Mike Cook, Montgomery Texas
Navigator
Dick Russ, Oklahoma City
Owner and Driver